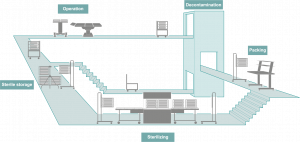 Containers become more common in the modern hospitals. Remeda´s handling systems for containers and instrument trays ease the work load for the personnel and reduces heavy lifting. At the same time it increases the efficiency with help of this complete system for  handling containers and instrument trays from the sterilization department to the operating theatres.
This system creates the possibility for the staff to prepare the CUBE for each specific operation just-in-time. The system includes the rack called the CUBE, a lift to handle the rack and a transport unit.
The shelf rack shelves can slide out which facilitate easy lifting of the containers in its handles from the correct lifting position.
The goods are put on the shelf rack after packing and the shelf rack is then easily handled with a lifting trolley.
When handling the goods using the CUBE system, it will always be done in the correct lifting height thanks to the lifting trolley that is a part of the system. The lifting trolley is both used in the central sterilization department and in the operation department.
The goods stays on the shelf rack from the packing table through the sterilizer, to the operation department and back to the central sterilization department.
Reference
number
Shelf rack
mm (inch)
Shelfsize
mm (inch)

Description

130 52-01

700x600x596
(27,6×23,6×23,5)
610x580x165
(24,0×22,8×6,5)

Removable shelves

130 52-02

700x600x596
(27,6×23,6×23,5)

610x580x165

Fixed shelves

Reference
number
Shelf rack
mm (inch)
Shelfsize
mm (inch)

Description

130 52-03

800x600x596
(31,5×23,6×23,5)
710x580x165
(28,0×22,8×6,5)

Internal use

130 52-04

800x600x596
(31,5×23,6×23,5)

710x580x165

Robot